Welcome! What do John Muir, Taoism, Sherlock Holmes, Long John Silver, and the 1948 Communist siege of Peking have in common? You can explore them all in my nonfiction and fiction works below, and have a pleasant (and occasionally challenging) time doing so. You can enjoy photos and commentary of my travels researching the novels in Ambles and Images above, as well as my Biography. In my Blog I also offer you a year of weekly entries, another year of monthly entries, and periodic recent essays. Bon appetit, and let me know what you think!
Nonfiction


To be human: connecting with the Earth
These works explore the lives and writings of those, East and West, who advocate for the key role of experiences in the natural world to being fully human.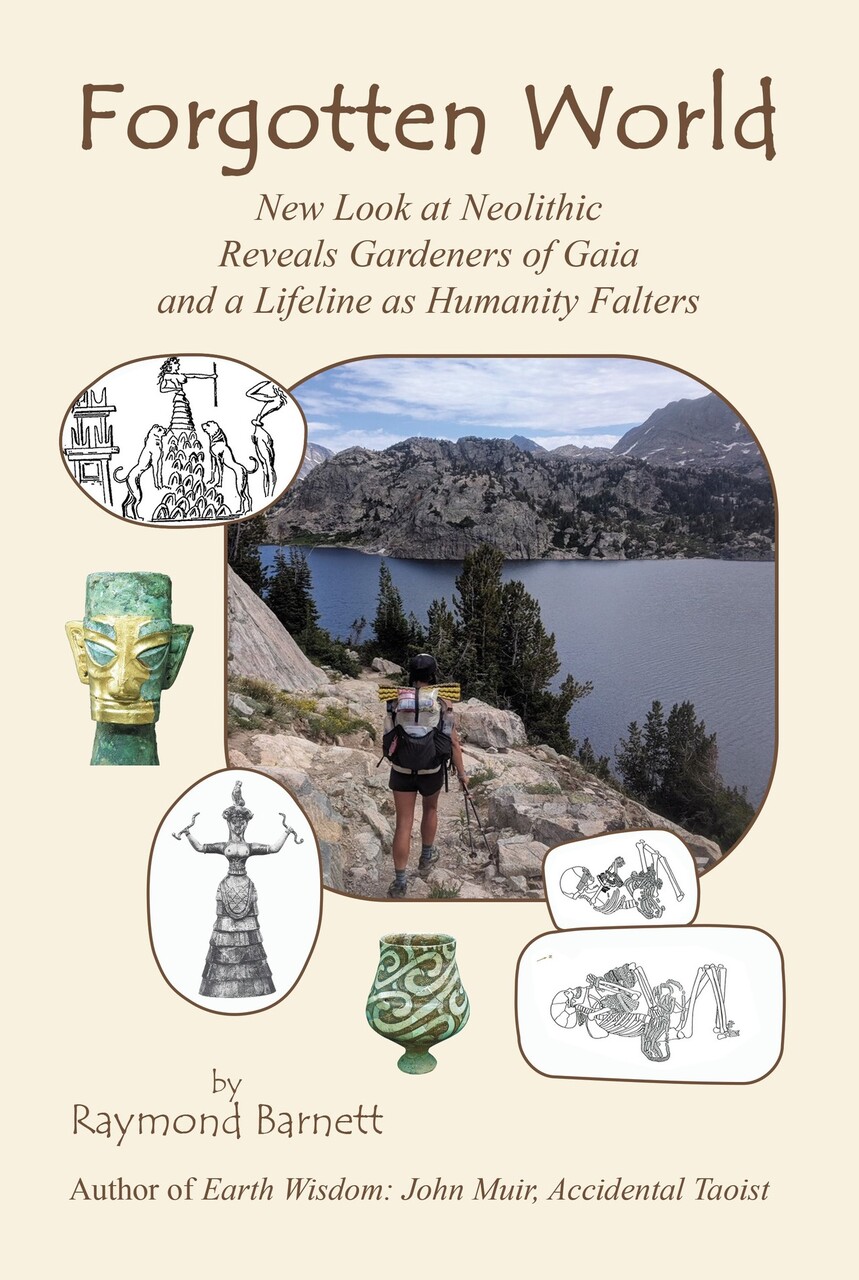 Forgotten World: New Look at Neolithic Reveals Gardeners of Gaia and a Lifeline as Humanity Falters. (KDP, 2021) Recent archaeological discoveries reveal that Neolithic humans saw the world with a fresh, startling vision. They reverenced and cultivated the earth, and celebrated their kinship with its creatures in strange, masked performances. Their villages were egalitarian and peaceful. For long thousands of years their hunting and gathering was complemented by widespread gardening, amidst the creation of beautiful carvings and ceramics.
New evidence shows these 10,000 years of plenitude and peace ended abruptly in both China and Europe with the coming around 2,500 BCE of cities, patriarchy, warfare, and exploitation of the environment. Though only lasting for the last 4,500 years of human history, this detour from our original way of living has brought us to the brink of civilizational and ecologic disaster.
Nine artists, scientists, and naturalists in the past century have rediscovered our earlier, Forgotten World. They show us not just a richer way of being human, but a proven path to escape today's perils.
Check out a radio interview of Forgotten World !
Earth Wisdom: John Muir, Accidental Taoist, Charts Humanity's Only Future on a Changing Planet. (CreateSpace, 2016) Muir's wilderness adventures are recounted, featuring not just his well-known Sierra Nevada days but his often-overlooked thousand-mile walk to the Gulf of Mexico and his Alaska glacier escapades. Always Muir confided his personal views in his ever-present journal, which is here considered in depth. A "hidden Muir" emerges from the journals, one which replaces the West's anthropocentric worldview with a radical Gaiacentric one. Muir's "earth wisdom" offers us a path to becoming whole and enlivened by connecting with our roots in the natural world. The new worldview also offers humanity a firm basis for dealing with the existential challenge of climate change. Check out a radio interview of Earth Wisdom. You may also read Reviews and the Introduction.



Relax, You're Already Home (Penguin/Putnam, 2004) A popular, widely-read informal introduction to the ancient Chinese way of living known as Taoism. While he delineates the basic ideas and concepts of the philosophy/religion, it is Taoism as a way of approaching reality and living life that Barnett emphasizes. The author draws on his experiences in China and observations of its people to show how this 5,000-year-old way of living has practical, everyday applications to our daily lives in the modern West, including our habits and routines, family life, holidays, health, and coping with personal tragedy. Reviews. First chapter. The Forbidden Chapter.
These sequels give us further mysteries and adventures of much-loved characters.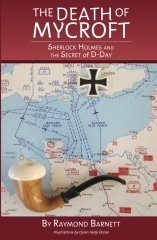 The Death of Mycroft: Sherlock Holmes and the Secret History of D-Day. (CreateSpace, 2017) An 89-year-old Holmes travels to London in May of 1944 in response to a telegram from his brother Mycroft, only to find Mycroft dead. Clues suggest his brother was murdered, and that Mycroft's group planning the D-Day invasion has been infiltrated by a Nazi spy. Holmes sets off to find and fool the spy, in the company of Watson's grandson and the beautiful Isadora Klein from The Three Gables. Soon Holmes is plotting with Winston Churchill, being smuggled into occupied France for a fateful game of boules, and then revisiting the sites of his most famous cases to avert a tragedy on the morning of June 6, 1944. First 2 chapters. Check out a radio interview of The Death of Mycroft.


The Death of Lord Carnarvon: Sherlock Holmes and the Secret of King Tut. (CreateSpace, 2017) Summoned to Cairo in 1923 to investigate the dying nobleman who recently discovered the tomb of King Tut with Howard Carter, the 66-year-old Holmes discovers that Lord Carnarvon was hated by a bewildering array of journalists, archeologists, nationalists, and even Britain's high commissioner to Egypt. But it is his examination of King Tut's tomb, and particularly the stunning ivory box the earl covertly removed from there, that permits Holmes to uncover a riveting and deadly drama that determined the fate of King Tut in Egypt's ancient past, as well as the death of Lord Carnarvon three thousand years later.

The Return to Treasure Island (iUniverse, 2011). Jim Hawkins is lured back to the Caribbean in 1756 by Long John Silver, only to discover baffling clues to a treasure hidden by a great Chinese fleet in 1421. They join with an orphan slave girl and her friend, the last remnant of a Chinese colony abandoned in Cuba three centuries ago, to battle Havana Harbor's Spanish garrison and Chinese mercenaries from Shanghai. Finally they stand before the ancient Goddess of the Sea who guards an emperor's treasure in a hidden sea cave. First 3 chapters.
Historical Fiction


The Asia Trilogy: Modern Asia Emerges
These novels look at pivot points in the making of modern China, Japan, and Korea, following the adventures and passions of a remarkable family over three generations.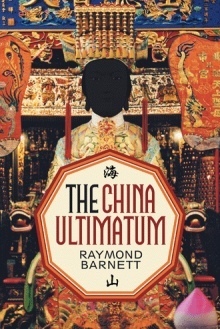 The China Ultimatum (iUniverse, 2012) China has abruptly given Taiwan nine days to reunify with the motherland or face destruction. Rising State Department star Philip Dawson, sent to mediate the crisis, immediately faces attempts on his life—or is the target the alluring Taiwanese newswoman who is shadowing his moves? Together, they must solve the riddle of the assassins, and somehow forge an agreement acceptable to Taiwan and China—with only nine days before Chinese missiles lift over the Straits and drag the United States into a nuclear war. To order. First 3 chapters

Jade and Fire (Random House, 1988) As Peking warlord Fu Tso-yi grapples with Mao Tse-tung's Communist armies besieging the ancient capital in 1948, Inspector Bei investigates a series of brutal murders at the city's brothels as well as the death of a Taoist priest. Following the beautiful lover of the priest to a mysterious Taoist temple in the Western Hills outside the city, the Inspector discovers a connection between the Communists' siege and the murders. Soon it becomes clear that he must solve the murders to save his beloved ancient city from destruction. Reviews.

The T'ae Medallion. Into the tumult of Korea in the late 1880's—a peasant revolt, rapacious nobles, the weak King Kojong, armies from China and Japan pouring into the beleaguered country—disillusioned Virginian Jefferson Phelps returns a mysterious medallion given to his father four decades earlier. His attraction to a forbidden woman of the dominant Min clan thrusts him into the center of intrigues and great battles changing the history of Asia. (Coming soon, God willing!) First 3 chapters